OA-OB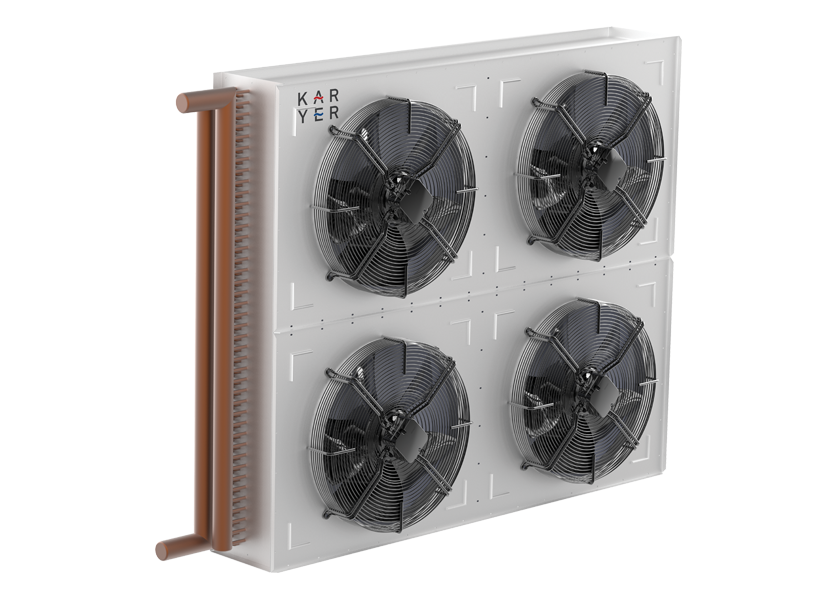 Application
In OA & OB oil cooler units, oil of the refrigeration compressor is cooled with the ambient air.
Coil Properties
Coolers are designed with optimum tube diameter in order to increase efficiency. Another feature is the high pressure drop of oil, that is eliminated by accurate internal coil design. Products are provided with 2,5mm fin spacing. Capacities are varying from 16 to 122kW. Maximum operation pressure is 10 barg.
Casework
OA refers to vertical and OB to horizontal design (air direction down to up). Product can be purchased with this reference and manufacturing is properly processed for vertical or horizontal usage. Frames of the cabinet are coated with Ral 9016 electrostatic powder painting.
Fan
There are Ø500 and Ø630mm diameters. The protection class is IP54. Fans are compatible with ERP 2015 regulation.
Options*
Unit coolers can be provided with below options; Gold Epoxy Fins
Hydrophilic Fins
*Please contact Karyer for option requests.