KC-GC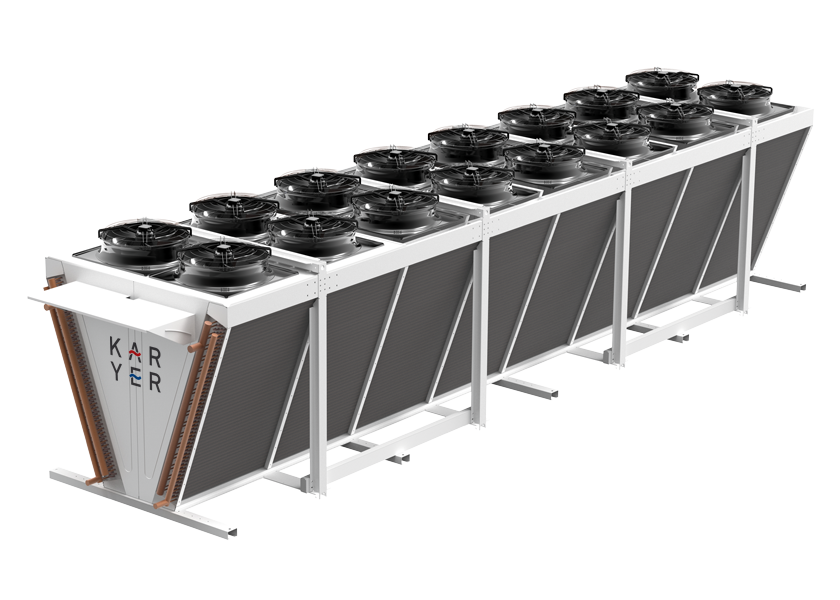 Application
Refrigeration Systems with R744 (CO2) gas is especially used in cold climates. In warmer areas, transcritical systems are replaced with cascade systems where gas coolers hold an important part as an element of the system. The gas coolers are being used to remove the heat of R744 getting out from the compressor.
As a consequence of growing environmental consciousness in the World, R744 systems are getting more popular in supermarket refrigeration, cold rooms and heat pumps applications.
Coil Properties
The products are designed for max 120 bars system pressure and made with copper tubes and aluminum fins. Products can be provided with 2,1 and 2,5 mm fin spacing.
Casework
Besides its aesthetic design, accurate and strong construction is essential in Karyer products. The chassis of the cooler is manufactured from durable materials and coated with Ral 9016 electrostatic powder painting.
Fan
Coolers can be provided with Ø500 and Ø800mm sucking axial fans with IP54 protection class. Fans are compatible with ERP 2015 regulation.
Options*
Unit coolers can be provided with below options;
Gold Epoxy Fins
Sprinkle System
EC Fan
*Please contact Karyer for option requests.
Capacity Range

Related Articles