ED-DC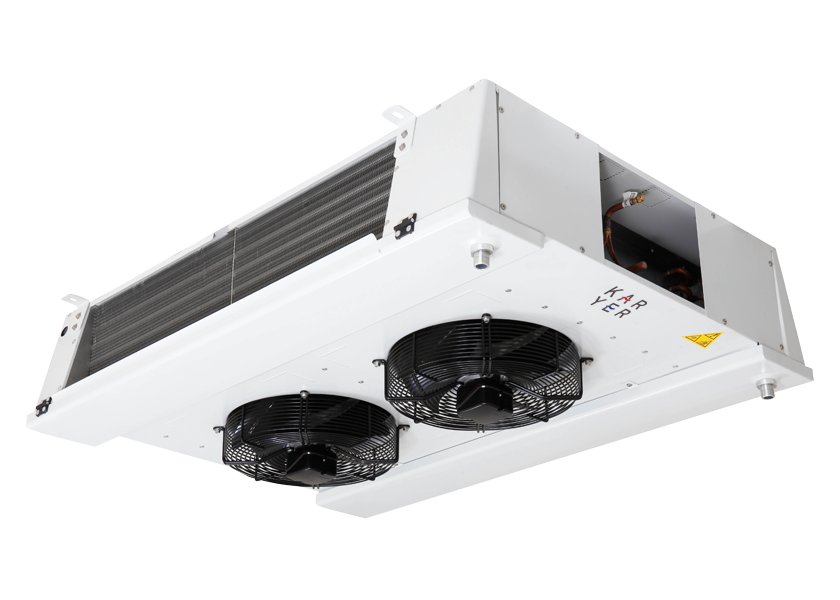 Application
The ED-DC model DX unit coolers are designed for carbon dioxide applications in commercial & industrial cold rooms and preparation rooms. The capacities are varying from 1,00 to 20,00 kW. The coils, in unit coolers, are compact in addition to their thermally high efficient performance.
Coil Properties
Coils have reliable design for CO2 operational conditions and tested under high pressure. The material is copper for tube and aluminum for the fins. Products can be provided with 4,20 and 7,00mm fin spacing. Maximum operation pressure is 60 barg.
Casework
It is manufactured with electrostatic Ral 9016 powder painted galvanized sheets to resist corrosion; it has attractive view in addition to its rigidity. Additionally, screwed side panels and hinged drain pan can be easily removed to facilitate installation and maintenance operations.
Fan
ED-DC unit coolers can be provided with Ø300 and Ø350mm diameter, blowing, axial fans. Protection class of fans is IP44. Fans are compatible with ERP 2015 regulation.
Electrical Heater
High-quality electrical heaters are placed on the coil and drain pan according to working and design conditions.
Options*
Unit coolers can be provided with below options;
Gold Epoxy Fins
Stainless Steel Case
EC Fan
*Please contact Karyer for option requests.
Capacity Range


Related Articles