EB-DC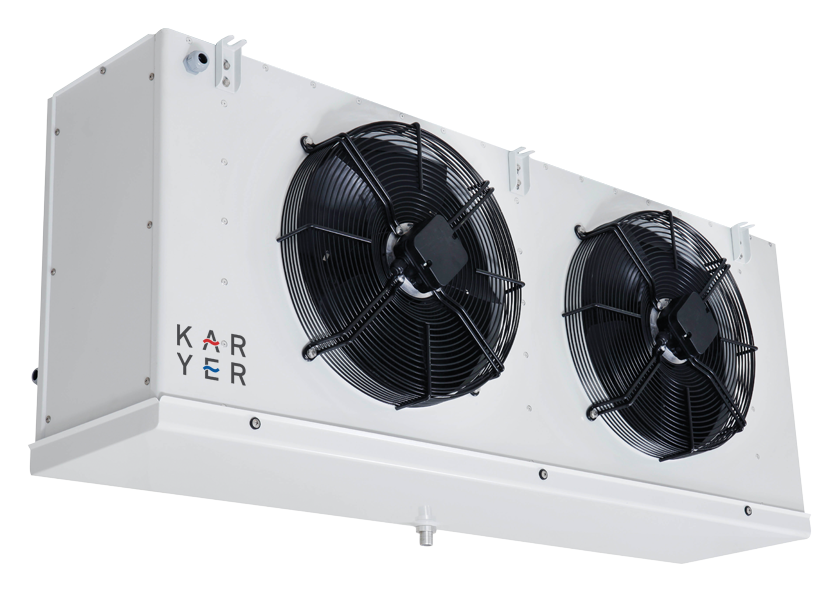 Application
The EB-DC model DX unit coolers are designed for carbon dioxide usage, having the range 1,00 - 45,00 kW, are able to satisfy small and medium cooling capacity needs for commercial cold storage.
The coils, in unit coolers, are compact in addition to their thermally high efficient performance.
Coil Properties
EB-DC Model DX unit coolers are compatible to run with carbon dioxide operation pressure and tested under high pressure. Products can be provided with range of fin spacing as 4,20 , 7,00mm. Maximum operation pressure is 60 barg.
Casework
It is manufactured with electrostatic Ral 9016 powder painted galvanized sheets to resist corrosion; it has attractive view in addition to its rigidity. Additionally, screwed side panels and hinged drain pan can be easily removed to facilitate installation and maintenance operations.
Fan
EB-DC unit coolers can be provided with monophase sucking axial fans with Ø300, Ø350, Ø400, Ø450, Ø500mm diameters. Protection class of fans is IP44 and IP54. Fans are compatible with ERP 2015 regulation.
Electrical Heater
High-quality electrical heaters are placed on the coil and drain pan according to working and design conditions.
Options*
Unit coolers can be provided with below options;
Gold Epoxy Fins
Stainless Steel Case
EC Fan
Fan Streamer
*Please contact Karyer for option requests.
Capacity Range


Related Articles